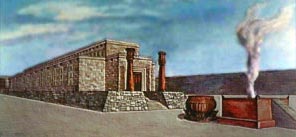 Responding to Challenges Faced by the Ancient Israelites
Assignments to hand in: Challenges Faced by the Ancient Israelites & Comprehension Questions (See below)
Step 1: Introduction: Download and play the following audio file: (BAH MITZVAH), while looking at the picture of the narrator below:
Thirteen-year-old Jewish girl on her birthday, celebrating her Bah Mitzvah.
Step 2: Challenges Activity: Look at the corresponding pictures below and complete the handout, Challenged Faced by the Ancient Israelites. Read and follow the directions carefully.

---
Challenge A: Samuel Making Saul King of Israel
This is a scene from the Nuremberg Bible of 1493, showing the religious leader Samuel making Saul the king of Israel.

---
Challenge B: Temple of Solomon
A rendition of the Temple of Solomon, which was built during the reign of King Solomon (972 - 922 B.C.E.)

---
Challenge C: Portion of Dead Sea Scrolls
A portion of the Dead Sea Scrolls, which are fragments of an ancient Torah discovered in a cave near the Dead Sea.

---
Step 4: Comprehension Questions: Answer the following questions on a separate piece of paper:
What types of challenges did the Israelites face in ancient times?

Which of the challenges that you learned about in this activity do you think posed the greatest threat to the survival of Judaism? Why?

Why do you think many Jews feel it is important to remember the challenges faced by the ancient Israelites?

Do you think Jews today might face any similar challenges as they practice their faith in the modern world? Explain.